This 1895 Ordnance Survey map details the later Scotstoun House, and shows the extensive orchard gardens to the east. Also detailed is the entranceway to the House - a small gatehouse lodge on Dumbarton Road would run through a leafy avenue en route to the House. The entrance portico was south-east facing.
The following aerial photograph, taken sometime during 1932, is the only photograph I found of the later Scotstoun House.
Dumbarton Road runs right-to-left along the bottom, north of the terraced housing; the area known as The Horn is to the far left of frame, at the junction of Dumbarton Road and Kingsway. Scotstoun House is surrounded by mature trees, as is the approach road off Dumbarton Road.
This contemporary photograph shows where the original Scotstoun House would have stood. Where the hideous high flats now stand, once sat the second incarnation of Scotstoun House, on Scotstoun Hill. The aesthetics of this area have changed dramatically over the course of the past 50 years.
The new Scotstoun House was leased in 1919 by Glasgow Corporation as a home for 'delicate children' at a rent of no more than £120 per annum. In 1962 the children's home, known locally as "the homies", was moved to Broomhill and the House demolished. The site of this great House is now occupied by Kingsway flats – a series of concrete multi-storey housing towers shown here on their opening day.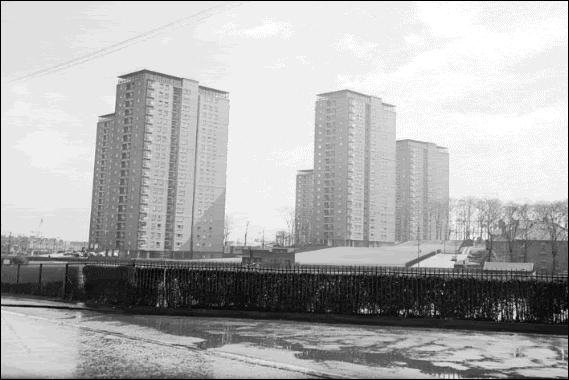 Imrie notes that 'the Factors of Scotstoun Estate were well aware of its value for housing development towards the end of the 1890s, and a company was formed – the Scotstoun Estate Building Company – to plan and build the terrace houses which occupy a vast expanse of land between Lime Street and Queen Victoria Drive. In 1912 a claim was put on record in the Transactions of the Old Glasgow Society that "Scotstoun is the finest garden city in Glasgow."'(ibid, p.39).